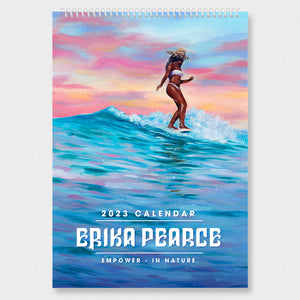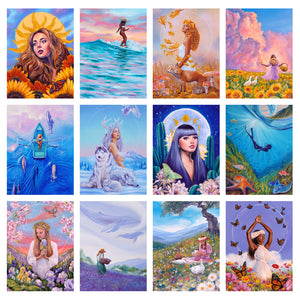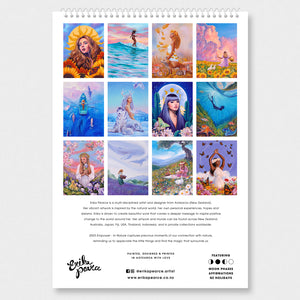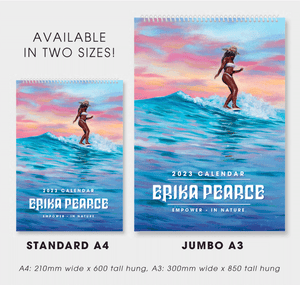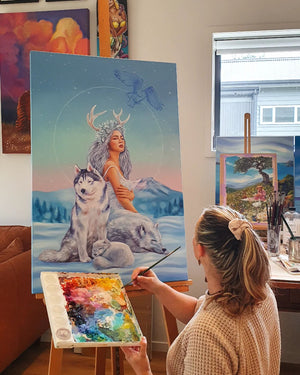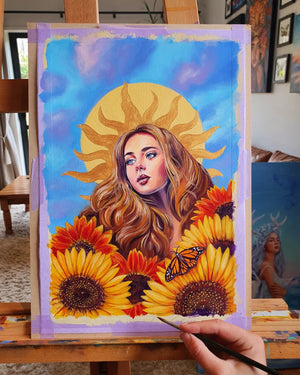 Regular price
$9.40
Sale price
$22.57
Unit price / per
tax included
Calendars are currently in production and will be posted early December, thank you for your patience!
Let's empower each other in 2023!
Brighten up your home, office or studio with this vibrant Collectors Edition 2023 Calendar, featuring 12 NEW artworks of strong and beautiful women immersed in nature. Each month comes with an inspiring affirmation to help you manifest your goals and happiness!
210mm wide x 600 tall when hung
A4 double sided, wire bound, wall hanging 12 month calendar with moon phases, important dates and monthly affirmations.
ABOUT ERIKA
Erika Pearce is a multi-disciplined artist and designer born and raised in Auckland, New Zealand. Her passion for women, culture and nature inspires her vibrant artwork. Erika is a dedicated ocean conservationist. She is deeply motivated to inspire communities to care for and protect their coastlines and surrounding waters. The creation of her large scale ocean murals has a really positive impact by opening up conversations with people of all ages.
Growing up in one of the most multi-cultural cities in the world, Erika developed a deep respect for the cultures around her from a young age. She creates every piece with a lot of research, understanding and guidance. Her 2018 exhibition, I Am Wahine explored feminine beauty and strength in modern women. She firmly believes that every woman deserves to not only feel beautiful, but to also own their beauty. To be proud of who they are and where they come from. She works with real women to visually tell their stories.

Her artwork can be found across New Zealand as well as in Japan, the United Kingdom, USA, Canada, Australia, Thailand, Fiji, Indonesia and in the private homes of collectors around the world. 
Wow that was fast! Packaged perfectly and now up in the kitchen. Lovely! Thank you Erika!
C. Ford
I just love your work! Hubby got me a framed print last Christmas. Every time I walk past it I am filled with joy!
J Harris